Print version

Click to download
Search Pub Med

061P Queen Elizabeth II Conference Centre London
Pharmacology 2013
Differential endogenous anti-inflammatory epoxygenase pathways in rat intimal and medial vascular smooth muscle cells
Oxylipids are produced through three major metabolic pathways, the cyclooxygenase, lipoxygenase and cytochrome P450 (CYP) monooxygenase systems (1). Here we investigated the endogenous anti-inflammatory roles of epoxygenase activity in rat aortic vascular smooth muscle cells (RASMC) that represent either a typical spindle shaped RASMC (WKY3m-22; Medial) or a developmental epithelioid RASMC that is re-expressed in vascular disease (WKY12-22; Intimal) (2).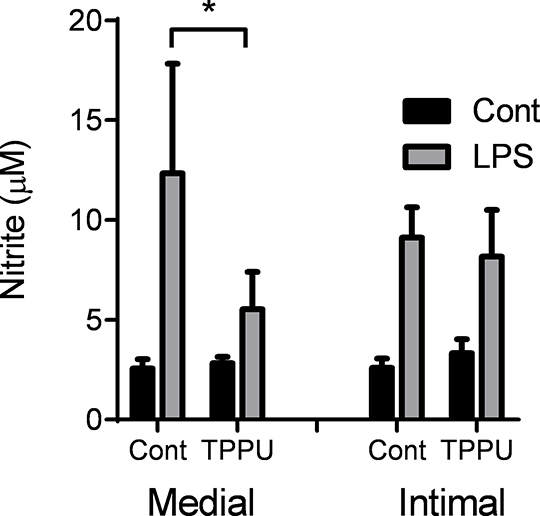 Medial and intimal cells were grown in DMEM supplemented with 10% FCS and Pen-Strep. All subsequent experiments were performed in serum free medium. CYP2J3 expression was measured by RT-PCR and immunofluorescence. 14-15-DHET the stable dihydroxy- soluble epoxide hydrolase epoxygenase product was measured by LC-MS/MS (3). In some experiments cells were treated with LPS (1ug/ml) or the epoxygenase inhibitor SKF525A (10uM), alone or in combination with the soluble epoxide hydrolase inhibitor TPPU (1uM; 4) or vehicle control (0.01% DMSO) for 72h. Nitrite in condition media from these cells was measured as an index of inducible nitric oxide synthase activity by the Griess reaction (5).
Medial but not intimal cells expressed CYP2J3 mRNA and protein. Intimal and medial cells both secreted 14,15-DHET over 24h, however when treated with LPS, only medial cells increased 14,15-DHET (pg/ml) production (Medial control 13±1; LPS 31±6*; Intimal control 64±2; LPS 52±16;; n=3). Interestingly, although intimal cells had endogenous epoxygenase activity they appear refractory to any of its anti-inflammatory actions. Endogenous epoxygenase inhibition by SKF525A treatment alone induced nitrite (uM) release in medial but not intimal cells (Medial control 1.6±0.4; SKF525A 19±2.0*; Intimal control 0.4±0.2; SKF525A 0.4±0.3; n=6). Similarly, using TPPU to elevate epoxygenase products by inhibiting soluble epoxide hydrolase reduced LPS-induced nitrite release from medial but not intimal smooth muscle cells (Fig 1; n=3).*p<0.05.
In summary, although medial and intimal RASMC both have epoxygenase activity, only medial cells contained CYP2J3. The epoxygenase activity in medial cells was able to inhibit our index of vascular inflammation (LPS-induced inducible nitric oxide synthase activity), but had no effect on intimal cell responses. A lack of sensitivity to endogenous inhibitory epoxygenases may therefore contribute to the pathogenic role of intimal smooth muscle cells in vascular disease.
(1) Zeldin DC. (2001) J Biol Chem 276: 36059-36062.
(2) Bishop-Bailey D, Hla T, Warner TD. (2002) Circ Res. 91:210-217.
(3) Deng Y, Edin ML, Theken KN, et al. (2011) FASEB J 25: 703-713.
(4) Ulu A, Appt S, Morisseau C, et al., (2012) Br J Pharmacol.165:1401-1412
(5) Li YT, Swales KE, Thomas GJ, et al., (2007) Arterioscler Thromb Vasc Biol. 27:2606-2611.