Print version

Click to download
Search Pub Med

228P London, UK
Pharmacology 2017
Formyl peptide receptor agonist FPRa14 induced differentiation of Neuro2a mouse neuroblastoma cells in culture
Introduction: The N-formyl peptide receptor (FPR) is a G protein-coupled receptor that has been identified within many neuronal tissues [1]. Accumulating evidence suggests a neuronal function for FPR. Ligands for FPRs are structurally diverse and include molecules associated with neurodegeneration [2]. FPR activation has been demonstrated to stimulate the differentiation of neural stem cells [3]. In this study Neuro2a neuroblastoma cells were exposed to the agonist FPRa14 in order to assess the effects on differentiation.
Method: Neuro2a cells were seeded into 24-well microtitre plates and exposed to FPRa14 (1-10μM). Images (x40 magnification) were taken 24h following agonist administration and visually assessed for morphological changes. Further differentiation assays were conducted with cells pre-incubated with the FPR antagonist Boc-MLF (40μM) prior to agonist administration. Data are given as mean ± SEM and analysis was performed via 2-way ANOVA with Dunnett's test where applicable.
Results: The synthetic FPR agonist FPRa14 induced a significant response in mouse neuroblastoma N2a cells, with % cell differentiation increasing in a dose-dependent manner. Three distinct differentiated phenotypes were observed, the two non-archetypal forms of which were only observed with higher FPRa14 concentrations (≥6μM). At these higher concentrations of FPRa14 toxic responses were also observed via MTT assay (26.0 - 56.1% cell inhibition). Pre-incubating N2a cultures with the antagonist Boc-MLF (40μM) prior to agonist administration significantly reduced differentiation to near untreated control levels.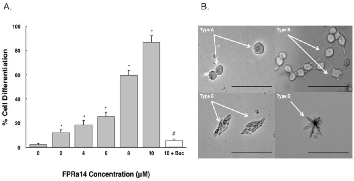 Fig.1 (A): The effect of FPRa14 (2-10μM and 10μM following pre-incubation with Boc-MLF (40μM)) on the % of differentiated N2a cells. * = P<0.05 relative to appropriate incubation control, # = P<0.05 relative to the appropriate FPRa14 concentration (n=171-278). (B): Key highlighting examples of the four classes of cell morphology observed and recorded during FPRa14 neurite outgrowth assays
Conclusions: These results suggest that the N2a differentiation response observed has an FPR-dependent component. The demonstration of neuronal differentiation mediated via an FPR agonist in this study represents a significant finding and suggests a role for FPR in the CNS. This finding could potentially lead to novel therapies for a range of neurological conditions including neuroblastoma.
References:
[1] Migeotte et al. (2006). Cytokine Growth Factor Rev, 17, 501-19.
[2] Li, Y. & Ye, D. (2013). J Mol Med, 91, 781-9.
[3] Wang et al. (2016). Sci Rep, 6, 25946